Overview/Educational Policy/Features
Overview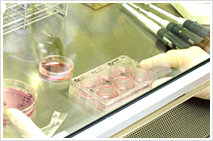 The Graduate School of Medicine comprises seven main divisions - Morphology, Physiology, Social Medicine, Internal Medicine, Surgery, Graduate School for Working Adults (Clinical Research), and Graduate School for Working Adults (Research) - each consisting of departments that are interrelated in terms of research.
In addition to the primary specialties, our graduate program offers sub-specialties and electives, so that education is given not only in one specific field, but over wide areas, promoting the acquisition of a wide range of knowledge and thinking.
We also provide opportunities for research and training at cooperating research institutions both in Japan and abroad, subject to consultation with the departmental chairman.
The underlying objective of the Graduate School of Medicine is to nurture professionals with the following qualities:
1. Researchers who can engage in cutting-edge biomedical clinical research on a global level and clinical researchers who can contribute to the advancement of high-level medical care
2. Clinical researchers who can engage in translational research
3. Medical educators and healthcare professionals who can take a leading role in preventive medicine, community medicine, and medical science
Objectives
Here at the Graduate School of Tokyo Medical University, our goal is to foster individuals capable of rising to new challenges in medicine; people committed to furthering cutting-edge research based on a thorough grounding in the basics of their field and an understanding of educational methodology.
The goal of the Doctoral program is to nurture individuals with a thorough understanding of both the theoretical and applied aspects of their chosen specialty; individuals who are creative and energetic; who have a deep understanding of human relationships and an international perspective; who are committed to taking the lead and thereby contributing to the betterment of humanity through the development of medical science.
Educational Policy/Features
(1) Fostering free-thinking and independent-minded researchers
The university's motto of self-reliance and self-study has been the guiding spirit for the growth of Tokyo Medical University ever since its founding. We are committed to the advancement of medical research and medical care that serves the needs of the community and its citizens. We have always welcomed students, regardless of their nationality and prior academic affiliation, to join our team of dedicated professionals. Our ultimate goal is to enhance human creativity and performance by nurturing and respecting the dedication and motivation of each student.
The common graduate school courses, specialized research seminars, and advanced medical lectures in the first and second years, all provide a broad background and base for ensuing studies.
After undertaking experiments and fieldwork for a research project upon consultation with the chairman of the department, students spend the third and fourth years compiling research findings into a manuscript and submitting it to a medical journal. The acceptance for publication is followed by the submission and presentation of a doctoral thesis to the examination board. Submission to international (mostly English-language) journals is encouraged.
(2) Fostering the capability for participating in international conferences and joint research
With recent advances in communications technology, research findings are instantly shared with researchers around the globe. The common language for this information sharing is English. Researchers are now expected to be able to present and discuss their research findings in English with both Japanese and international researchers.
(3) Promoting translational research for advancing transplant, gene, regenerative, and other advanced therapies
We recognize the importance of fostering researchers who can engage in translational research or apply findings in basic science to the clinical setting. This is essential for the efficient use of limited medical resources.
To further our translational research capabilities, specialized research seminars and common courses are included in our program to break down barriers and promote exchange between the basic and clinical research sectors.
(4) Fostering leadership in preventive medicine and regional communities
Disease prevention is as important as etiological elucidation and treatment, particularly in view of the rising cost of medical care. We undertake research in sports medicine, stress, and general well-being which can provide the key to leading healthy, meaningful lives.