Outline and Principles of Education
I. Objectives
Diseases with no therapeutic options pose a significant concern. Rapid advances in the biomedical sciences have meant that research at the molecular level has become extremely sophisticated, making a good knowledge of a wide range of highly specialized techniques a must. These advances have also set the stage for medical and non-medical science graduates to cooperate with each other in research. In response to the growing need for such medical researchers, Tokyo Medical University launched a Master of Medicine program for Bachelors of Science in 2013 aimed at equipping aspiring researchers with the tools necessary for their chosen profession. This program aims to nurture medical research professionals and prepare students for doctoral degrees in medicine.
II. Outline of the Master of Medicine Program
The Master of Medicine program provides non-medical graduates with the foundational knowledge and skills they will need to pursue a career in biomedical research. Students will attend lectures and hands-on training sessions. They will be assigned to specific laboratories, where they will engage in research projects for the master's thesis under the guidance of faculty and teaching assistants. The lecture courses listed in Sections 1 to 3 are mandatory. Elective classes are shown in Section 5. For the mandatory Special Medical Research project (Section 4), each student will engage in research activities at a laboratory of his or her choice.
<Diagram of Curriculum>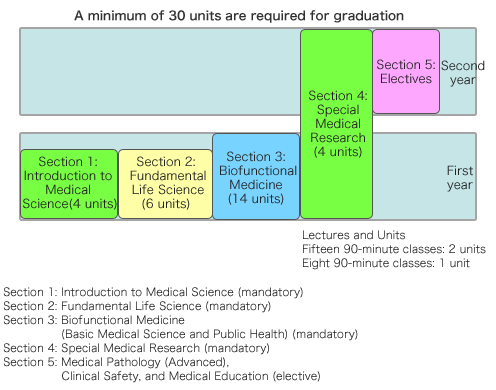 ①Section 1: Introduction to Medical Science I to IV
This course will present a broad overview of the medical sciences, covering everything from the basics to current issues. Instruction will also be given in medical English, an important tool in medical research. The student will also be expected to learn the basics of bioethics, another essential for any researcher in this field.
②Section 2: Fundamental Life Science
(Advanced Course in Fundamental Life Science, Advanced Course in Molecular Cell Biology, and Advanced Course in Molecular Pathology)
The courses in this group focus on cellular and molecular biology. By studying malignant tumors, immune disorders, neurological diseases, and lifestyle diseases, the student will learn how to differentiate between physiologically normal and pathological conditions.
③Section 3: Biofunctional Medicine I to IV (Molecular Physiology, Molecular Pathology, Neuroanatomy, Molecular Pharmacology, Infectious Diseases, Molecular Immunology, and Public Health)
This group of subjects focuses on the core elements of the basic medical sciences, with a particular emphasis on current issues and the type of work involved in each of these fields. Here, the student will be introduced to various concepts in molecular cell biology key to understanding a variety of illnesses. They will be expected to learn the fundamentals of medical science from the viewpoint of developing cures. The core elements of public health issues will also be covered.
④Section 4: Special Medical Research
Each student will join a laboratory of their choice and participate in research activities there (see syllabus for details).
<This module will be implemented with the cooperation of laboratories in the following departments:>
Microbiology
Immunology
Pharmacology
Histology and Pathophysiology
Neuroanatomy
Neurophysiology
Molecular Pathology
Preventive Medicine and Public Health
Institute of Medical Science (IMS) Departments of Immunoregulation, Molecular Oncology, Musculoskeletal Medicine Research, and Translational Research Promotion
In addition to the mandatory subjects listed above, the following electives are also available.
The student may choose from among them depending on their future career goals:
⑤Section 5: Clinical Safety, Medical Education, Advanced Courses in Medical Pathology (I to IV, practical sessions)
The Clinical Safety course will outline safety management in both clinical and medical research settings. The Medical Education course will introduce the basics of medical education and prepare students for their future teaching assignments. In the Advanced Courses in Medical Pathology, in addition to the fundamentals, the student will also study more advanced topics such as cardiology, pulmonary medicine, thyroidology, anesthesiology, neurology, and rheumatology. Focusing on specific examples, these courses will help the student understand the relationship between medical research and clinical practice.
III. Nurturing the Next Generation of Experts
This master's degree program enables graduates from pharmaceutical, engineering, agricultural, and other non-medical life sciences to systematically acquire knowledge of medical science, building on their prior education and helping them become experts in a wide range of medical and clinical specialties.
Here, the student will gain an understanding of the basics of normal physiology and pathological states at the molecular, cellular, and organismal levels. They will acquire the skills and knowledge needed to conduct basic and applied research, exploiting the latest technologies in histology, molecular biology, genetics, and other life sciences. A particular focus is placed on training translational researchers through the integration of basic science and clinical practice.
IV. Research Tutorship and Pathway to Graduation
Students will receive assistance and tutoring to help them complete their master's thesis as detailed below:
①Prior to admission, prospective students will meet with a potential supervisor who will guide them in their Special Medical Research project. The prospective student and their supervisor must agree on the research topic to be tackled.
② Immediately after admission, the student will be assigned a supervisor.
③ During the first semester of the first year, each student will create a practical research plan and commence preliminary research under the guidance of their supervisor while attending the mandatory courses (24 units in total). In September (the start of the second semester) of the first school year, the student will formally begin work on their master's thesis. Depending on the nature of the research, the project may require prior approval from the University's Ethics Committee.
④ The student will be expected to demonstrate real progress by the end of the first semester of their second academic year. They will be expected to deliver regular reports on their progress at laboratory meetings, where they will receive advice and feedback from other faculty members and post-graduate students, in addition to their supervisor.
⑤  The student will give a public presentation of their work between November and December of their second academic year. They must submit their master's thesis by the following January. The submitted thesis will be approved or rejected after a multi-step review process by the Thesis Committee between January and March.
General Schedule for Special Medical Research Project
1st year
April
September
Admission, assignment to laboratory, determination of research topic, and commencement of preliminary work
Formal start of project
2nd year
April
November to December
January
February
March
Progression to second-year curriculum
Public presentation of research findings
Submission and preliminary review of master's thesis
Review: thesis defense
Final review