Summary / Educational principles
Summary
Tokyo Medical Teaching Establishment, founded in 1916, was the predecessor of Tokyo Medical University. After a period as Tokyo Medical College, we gained university status in 1946.
We adopted a integrated 6-year medical education system from an early stage, and are now focused on providing a unique medical education which places both science and people at the center.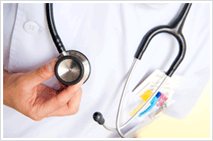 Educational principles/features
"Self-reliance and Self-study" is the motto of the university. Our aim is not only to equip students with knowledge and skills in medical science, but also to nurture independent judgment and critical thinking.
The subjects included in the 6-year curriculum are divided into general and specialist education, with general subjects spread over the 6 years and specialist subjects introduced in the first few years. From the 1st year to the first semester of the 3rd year, students study general education subjects and preclinical medicine subjects at the Shinjuku campus. The clinical medicine courses from the second semester of the 3rd year and the 5th year clinical practice take place in the university hospital in Nishi-Shinjuku, along with some courses at the Ibaraki or Hachioji Medical Center.
Research facilities include an electron microscopy laboratory, which contains equipment such as transmission and scanning electron microscopes, and a radioisotope research laboratory, which is furnished with the most recent radioisotope analytical equipment.
Our program aims to provide students with language competence and a global outlook which will prepare them for actively participating in medicine on an international level. As part of this effort, we have been establishing sister and student exchange programs with universities abroad to promote mutually beneficial international cooperation.